Welcome to the Pickleball Lab
If you are here it is probably because, like us, you love pickleball. This project is a bit of an experiment: we're trying something new. We believe that we can offer the world's best pickleball content and as a subscribing member of The Pickleball Lab, you are helping to make that happen. Thank you.
What can you expect? That's a great question! As a subscriber, you'll receive an email every couple of weeks directing you to our latest exclusive content.
We commit to bringing you thoughtful, high-quality content on a wide variety of topics. We've created brand new videos that aren't available anywhere else. We will have subscriber-only articles from some of the biggest names in the game. And you'll find limited edition audio files that tackle a wide range of topics. In short, we want this to be your favourite place to find the best pickleball content in the world.
In addition to the regular emails you'll receive, we'll also have special contests and giveaways just for Pickleball Lab subscribers. This will be a chance to get your hands on some of the best gear and accessories in pickleball. The Pickleball Lab is a bit of an experiment — but we think it will be a pretty awesome one!
Talking Technique: Where Backhand Dinks Breakdown
Playing a good dink seems like it should be so easy. After all, it's a slow shot that you aren't hitting very far or (hopefully) doing too much with. Just keep it low. No big deal, right? But if you watch people compete, it usually doesn't take very long for their dinks to become a little too high or low — especially on the backhand side.
Here's an exclusive video that takes a deep dive into a key technical aspect of the backhand dink that often gets overlooked. This isn't the only reason that people hit their backhands dinks too high, but it is a common one.
Introducing Training Challenges
Our Training Challenges are practical activities that you can do to test your skills. Each challenge has a clear goal, purpose and method. We'll tell you what equipment you'll need and how to make it tougher or easier as needed. We encourage you to get out on the court to test yourself and then to re-visit the challenges and track your improvement.
Training Challenge: The Moving Dinker
More often than not, when a person plays a bad dink it is related to them being poorly positioned to hit it. Your opponents will try to wear you down so that you end up reaching for the ball rather than being well set up. This challenge pushes you to be a great mover.
Goal: To develop great lateral agility and endurance. Maintain a rally as long as you can.
Method: Stand on one half of the court at the NVZ while facing a training partner on the other side of the net. Begin a co-operative dinking rally but with a twist: after hitting each dink, shuffle quickly to either the centreline or the sideline — whichever is farther away!
Equipment: A partner and a ball.
Adaptations: Make the challenge more interesting and physically demanding by making the dinks lower and nearer the sides of the box. Make it easier by dinking to the centre of the box and with more height since it will buy you and your partner time.
Notes: Be sure to use appropriate caution with this challenge. Know your limits when it comes to vigorous movement.
Avoid the Forehand? Not So Fast!
Jared Brooks shows how going after the forehand can be a smart play against his wife, Abbie. If your opponent is cheating to the backhand side to protect it, aiming to the FH — so long as you make them run — can be a great way to cause some trouble. Once again, there aren't many hard-and-fast rules in pickleball and this is one example that highlights it.
This play works especially well if you have been picking on your opponent's backhand regularly. They'll have an expectation that you'll maintain the pattern and this is where your opportunity to strike emerges.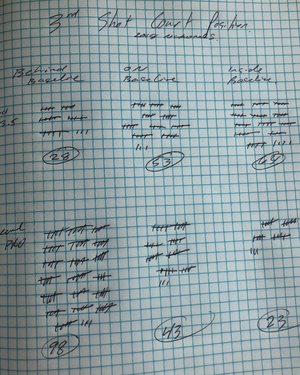 Returns Matter (and we have the stats to prove it)!
We collected some real data about returns of serve. Click the audio player below to learn about our results.
Most PB players know that deep returns of serve are important: they make it harder for the serving team to cause much trouble.
But how good are we at actually hitting deep returns? Mark Renneson went to the 2018 USAPA Nationals to collect some stats.
Looking at 3rd shot positioning from 2018 USAPA Nationals. Click below to listen. By Mark Renneson
Dealing with Burnout (and How to Avoid It in the First Place)
By Simone Jardim
If you are like many pickleballers, you sometimes find it pretty tough to put down the paddle. There is always one more game to play, one more laugh to have. There are many reasons we haven't wanted to take a break; this game is fun, exciting, social, inclusive, competitive and fulfilling. The simple fact that you can show up at random places anywhere around America (and beyond), find people to play with and quickly become friends is something you cannot find in most sports.
As a matter of fact, the ease with which pickleball allows us to find community is beyond what many of us can expect in our busy everyday lives.
But with this non-stop playing comes the risk of Pickleball Burnout. Burnout is defined by sports psychologists as "physical/emotional exhaustion, sport devaluation, and reduced athletic accomplishment." At times it can be hard to find balance and to know when enough is enough -- physically and/or mentally.
I recently had a conversation with a client who is experiencing pickleball burnout. She didn't call it that herself, but having been around athletes as long as I have, I recognized the signs: lower than usual motivation to be on court; prone to distraction; being unusually quick to frustration, etc.. My client is aware of the situation and together we are working on a plan of attack. We both agreed that too much time on the court is not only hard on the body, but also on the mind. We must come to terms with the fact that we are no longer 20 years old and our body doesn't recover the way it used to. It is the reality of growing older, I suppose.
If anyone knows me or has seen me play, it is pretty evident that I love competing. And as the sport grows in popularity and more tournaments pop up, there are more opportunities than ever to get on the court and test myself. It is difficult for me to say no and not play all of them. But whether you are a professional or amateur competitor, there is an important signal that burnout is not far off. When pickleball begins to feel like it is something that you have to do instead of something that you want to do, the game takes on a new dimension and becomes work rather than play. It morphs into a burden rather than a privilege and for many of us becomes mentally exhausting. What is usually incredibly fun is now a grind and something to endure.
So, how do we avoid burning out? I have found three steps especially useful: First, limit the hours you play and this includes resisting the temptation of playing one more game only to find yourself regretting it a few minutes later. Listen to your body and mind, they will let you know when it is time to go home.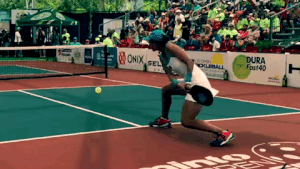 "When pickleball begins to feel like it is something that you have to do instead of something that you want to do, the game… becomes work rather than play."
Second, be selective about when you play. If you compete, choose the tournaments you play wisely and do your best to not add more to your schedule than you can handle. This sometimes means saying no -- and that's ok. In fact, saying no this time might mean you can say yes much more often in the future, since your brain and your body will be a little more rested.
Third, dedicate time to do other things that don't involve pickleball! I know, you think I'm crazy. For me personally, as much as pickleball occupies a huge part of my life, I must remind myself that I also like to do other things. I love spending time with my amazing family. I enjoy watching movies and being outside (not on a court). And spending time on these things helps me to bring some balance to my life.
I'm very thankful that I have found pickleball and I want to make sure that I am around the sport for a long time. In the same way that a little distance can be a great reminder of how much you love a friend or a spouse, so too can it be with a sport. For those of you who are feeling a bit of burnout today, give yourself permission to take a little (or big) break. It is something I do to make sure that I never lose the enthusiasm and passion for this crazy game called pickleball!
(Weekly Tags: Simone, Cross Court, Statistics)
The Art of the ERNE
Tyler Loong is one of pickleball's most aggressive players when it comes to jumping the corner of the kitchen and hitting an Erne. His read on when the opportunity presents itself is second to none, and his agility allows him to wait until the last second before he makes his move.
Here's a semi-artistic tribute to Loong's NVZ movement using a clip from our frinds at Pro Pickleball.
Pickleball is a game and games should be fun. While dissatisfaction is necessary for improvement, if you find yourself unhappy when playing pickleball it might be worth taking a step back.
It is a privilege to be able to spend time playing games and not everyone is so fortunate. Remembering how lucky you are to be able to spend your time playing a sport — and that in the grand scheme of things, the wins and losses aren't that important — is a good way to keep the things in perspective and keep pickleball what it should be — incredibly fun.
Thanks for being a subscriber to The Pickleball Lab. See you next time!