We are back with another edition of The Pickleball Lab. This week we have an interview with Leigh Waters as she talks about her surprising approach at the non-volley zone, we get a fun and challenging drill to help you work on your drop, and we play another round of What's on Mark's Phone?
Set aside some time to listen and watch and then sit back and enjoy.
Video: drops with your arm in a cast
When people fail to hit a high quality drop, they often look to their paddle to figure out what went wrong: did they have the wrong angle? did they hit too hard? not hard enough? too much paddle movement? They often assume that it was how they tried to send the ball that led to the problem.
While it is true that you can blow the shot because of poor paddle work, more often than not it is a symptom of the problem, not the cause. That is, you may have used your paddle poorly not because you have poor paddle skills but because of some other reason.
Drops are especially finicky shots; if you don't hit them perfectly you are in big trouble. And it is hard to be perfect when you are moving, reaching, jammed or otherwise out of position at the critical moment when ball meets paddle.
Here is a fun and surprisingly difficult activity that will help you focus on being amazing at setting up for your drop. And while being in a good position doesn't guarantee success, it sure goes a long way to making it more likely.
Special Feature: The Evolution of Pickleball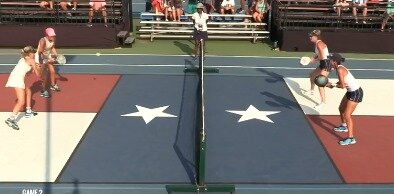 Is This the Future of Net Play?
Elite players are spending more time back from the NVZ. Is this an aberration or is is a sign of things to come?
By Mark Renneson
In September of 2019 my colleague Larry Vander Roest alerted me to something he saw when watching the 2019 Texas Open. In a featured match between Leigh Waters and her daughter Anna-Leigh and Lucy Kovalova and Simone Jardim, he observed that the women could often be seen playing from well behind the NVZ. This match is linked at the bottom of this article.

This wasn't just in defensive situations where retreating is a smart move, but even in fairly neutral dinking exchanges. It was an astute observation and while he proposed his own reason for it , he opened it up to others to surmise why the players were not following the 'stay as close as possible to the kitchen' rule that one often hears about.

Guesses ranged from "They're taking away the lob!" to "it allows them to step into the volley" to the dismissive "They're all tennis players -- what do you expect?". I had my own guess as to what was going on here but I'm inclined to go straight to the source whenever I have the chance. So I called up Leigh Waters to have a chat about what was behind this myth-busting positioning.
Bonus: Another Example of Backing Up
In a previous version of The Lab we showed video of how Steve Dawson backs off the line as a way to relieve pressure on his partner who is being pickled on. Did you notice in Mark's conversation with Leigh Waters that she also mentioned this as a rationale for why she hangs back from the line?
What's on Mark's Phone?
Every once in a while we do a video called What's on Mark's Phone. It is a chance for Mark Renneson to share with you some of the thousands of clips he has and to provide some insight along the way. Click the video below to watch.
Should you use a lightweight paddle or a medium weight paddle? How about a heavy one? What difference does it make anyway? Here is a quick checklist to make sense of it all.
Heavy Paddles (8.5oz+) - Heavy paddles a good for two things: generating power and providing stability. All things being equal, a heavier paddle hitting a ball will send the ball with more speed than a lighter paddle will. That's inertia in action! Also, if you have a bit of a mis-hit, the heavier paddle will twist less than its lighter counterparts.
The drawback is that heavier paddles are less maneuverable and you need to watch out for injury since you're now asking your muscles to work harder than with something a little lighter.
Lightweight Paddles (<7.5oz) - Lightweight paddles are great at moving quickly through the air. This can be very helpful in those bang-bang exchanges at the net or if you are playing against people who love hitting hard. They are also great if you a smaller person who doesn't love the idea of lugging a behemoth around the court.
The downside with light paddles is they typically have less power and are less stable when you don't hit the sweet spot.
Midweight Paddles (7.5oz - 8.4oz) - Not surprisingly, midweight paddles kind of split the difference between the two other options. While you might give up some maneuverability compared with a lightweight paddle, you gain some security on off-centre contact. It may be a good idea to start with a paddle in this range and then work your way up or down over time.
Parting Thoughts
People will often tell you it is important to be consistent — to be steady and to be reliable. And while there is definitely merit to being calm and predictable, there is also something to be said for being willing to mix things up and to catch people by surprise. An unexpected flick or third shot drive can spell the difference between beginning a dinking exchange or getting a high ball.
We're not saying you should go over the top, but wouldn't it be great if your opponents never quite knew what they were getting from you? See if you can incorporate a little bit of unpredictability in your game this week.