In this edition of The Pickleball Lab we are trying something a little different. This week we've gone pretty heavy on the audio, giving you a chance to not just read or watch interesting things about pickleball, but to hear them as well.
We've got a breakdown of an awesome point between Frank Anthony Davis and Tyson McGuffin that combines images as well as audio commentary. We follow it up with a feature interview with FAD where he talks in depth about his training routine, how he spent two years playing PB before he even knew doubles was an option, and what he's done to make himself a top-tier competitor.
We've also introduced a new feature called POINT/COUNTERPOINT where are address the hot-button issue of some tournaments not issuing refunds. Want to hear more about the issue, we back it up with an interview from seasoned tournament director Ryan Hanes.
Finally, we have a chat with Lauren McLaughlin and Kyle Selinko who are making a name for themselves through their funny and often controversial online shows Live with Lauren, The No Smoke Pickleball Show and The Tour.
Read, watch and listen to this edition of The Lab. We think you'll love it.
FAD's 360 Smash vs. McGuffin: The Breakdown
Here's a crazy good point from Frank Anthony Davis (FAD) and Tyson McGuffin. There are so many little things that go into making this highlight-reel finish possible. Each clip below has an audio file that goes with it. Click the arrow to hear a breakdown of what's going on. Thanks to ProPickleball for permission to use the clip.
If you are a tournament player then you may have noticed (or not) the disclaimer that often comes with your entry — something to the effect of "In the case of cancellation due to poor weather, refunds will not be issued". In this edition of POINT/COUNTERPOINT we make the best arguments we can for each side of the debate.
POINT: If I pay for a product (e.g. a pickleball tournament) and it is not delivered, I should get a refund. This is how it works with most other goods and services. If I order a pizza to be delivered and it doesn't show up because the driver gets stuck in the snow, I should not have to pay for it.
COUNTERPOINT: Tournaments are very expensive to run. The upfront costs of renting courts, advertising, balls, prizes, t-shirts, etc. means that the tournament owners would be out a lot of money if they had to refund everyone because of weather.
POINT: True. But if you are running the tournament as a business, you should have to assume the risks that businesses typically assume. You reap the benefits if your tournament/business is successful, so you — and not the players/customers — should also have to deal with the consequences if something goes wrong. Why are the players/customers the ones on the hook?
COUNTERPOINT: But we make clear what our policy is. If you, as the customer, don't like our policy, you don't have to play our tournament.
Does this topic interest you? We had a great conversation with Tournament Director Ryan Hanes of Two Bounce Solutions to get his perspective on the issue. Click below to listen.
Lauren McLaughlin and Kyle Selinko are the duo behind the online shows Live with Lauren, The No Smoke Pickleball Show and The Tour. Together they produce shows that are thoughtful, funny and feature great guests including top competitors as well as key players in the pickleball industry. We talked with them about their different projects, what they are hoping to do with them and how they find the balance between being edgy without going over-the-top.
Feature Interview: Frank Anthony Davis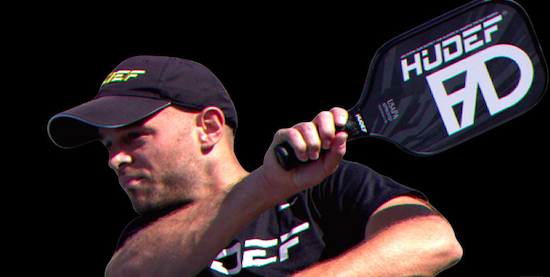 FAD opens up about his rise in pickleball.
Frank Anthony Davis (FAD) is one of pickleball's most exciting players to watch. His incredible agility combined with a never-say-die attitude make him a threat to top tier players like Kyle Yates and Tyson Mcguffin — both of whom he beat in 2019. In this featured interview, Mark Renneson speaks with FAD about a wide variety of topics including his training routines, how singles pickleball is changing and what has helped him move from being a top 10 player to making it into most people's top 5 list.
It can be incredibly frustrating when your partner misses shots you think they should make. But try to remember that as disappointed as you may be, they probably feel even worse. A little bit of empathy can go a long way in making your partner feel supported and trusted. And when they feel like you've got their back, they are far more likely to play well.
Something you loved this week? Didn't love? Let us know your thoughts on this week's edition!